Posts Tagged 'warplanes'
Lt. Col. Wes "Pappy" French, a Kingsley Field instructor pilot, passed a significant flying milestone this summer. On June 8, the 45-year-old fighter jet pilot logged his 3,000th hour flying the F-15, becoming the third active Kingsley pilot to reach the mark.
If you do the math, that's 125 days spent roaming the skies in the tight cockpit of the air-to-air fighter jet.But that doesn't take into consideration the countless hours French and about 25 other instructor pilots at Kingsley spend preparing to the fly the $30 million machines.
"Every milestone has been a proud moment, but to me the more important part is that every hour I'm up there I'm providing good training for the guys I'm working with," said French, a member of the Oregon Air National Guard's 173rd Fighter Wing.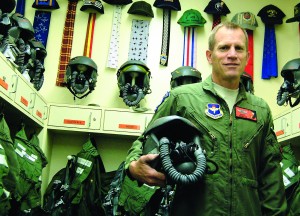 Instructor pilots at Kingsley fly about four days a week, logging five to six hours in the air over that time period. Kingsley trains pilots to fly the F-15 and is the base to train pilots on the F-15C, a single-seat version of the fighter jet.
"We take a guy that is straight out of pilot school and train him for about six months to make the F-15 a fighting machine," French said. "It's very tough for them."
Source: Herald and News